Vertical garden design service
In order to create a lush, diverse and stunningly beautiful vertical garden or green wall and stay healthy and prosperous for years, greening is done in four steps:
1. Consulting
We offer free consultation. Please contact us today as soon as possible!
To create your unique garden wall, we start by meeting you and visiting the place of your choice. We will discuss your wishes, identify potential vertical spaces and answer your questions. In this first meeting, we will take a picture and note the main colors and overall style used in the decoration. In preparing each proposal, we will measure the amount of natural light available for potential green wall space and also consider exposure to other elements such as wind and rain.
2. Design
Plants are carefully selected and placed for maximum visual results on the green wall.
As outlined in the Aesthetics section, one of our main goals is to create a living work of art. Therefore, the next step is to decide which plants to use. We strategically choose from hundreds of varieties of plants in our inventory based on characteristics such as color, texture, pattern and size to achieve the best visual results. These are important factors to consider before placement, as the amount of light and water required by plants varies widely from species to species. We make sure that the plants are properly placed so that they can thrive and reach their full potential.
Plants filter air pollutants, and some species are more efficient than others. Our planting strategy is to maximize the optimal number of species for improving indoor air quality.
For plants on an exterior living wall, how they evolve over the course of the year is an important design consideration. Our goal is to always create interesting and beautiful green walls. Therefore, we consider flowering time, flower and leaf color, and use of evergreen plants, all of which are elements of the design process.
Once the plant is selected, we create a blueprint and artistic rendering of the future green wall. Rendering is an illustration that outlines the possible shapes and sizes of the living wall. Rendering also provides an overall pattern and color idea for the finished and living artwork. Once you have reviewed our suggestions and decided on your preferred pattern, we will provide you with a detailed quote for your green wall.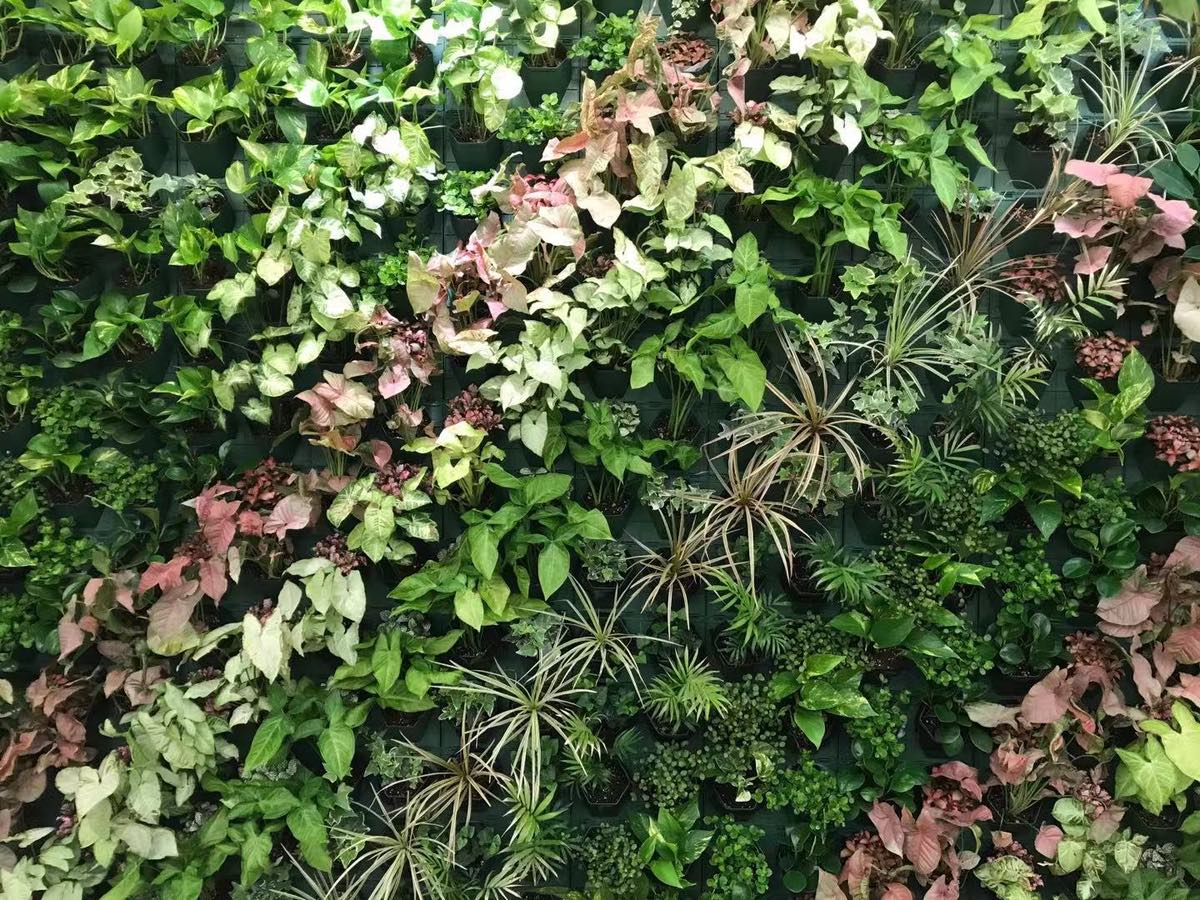 3. Installation work
In just a few days, your walls will turn from a boring "gray" to a stunningly lush vertical garden!
As soon as the installation date is decided, we will start construction of the green wall at your location.
We will install an automatic irrigation system that provides the plants with the ideal amount of water and nutrients.
For indoor green walls, special low-energy, high-power luminaries are installed to illuminate the wall, depending on the amount of natural light. These lights are beneficial to plants and are eye-friendly. We choose the most suitable equipment for your decoration. Lighting enhances the visibility of living masterpieces and helps plants get the minimum amount of light they need, especially when there is little or no natural light. The lights are programmable and will automatically switch on and off.
Plants are added once the walls are constructed with irrigation and lighting systems. This is a fun moment, when magic happens. In just a few days your wall will turn from a boring "gray" to a lush vertical garden!
4. Maintenance
We offer maintenance plans that guarantee a beautiful, lush and healthy green wall at all times. They are intended to give you complete peace of mind without any hassle and time.
For the first year after construction, we will provide maintenance plan services. This is because the important acclimatization period of the plant is this period. This maintenance plan will continue to be offered, so you can be assured that your wall garden will remain gorgeous for years to come!
The price of the plan depends on the overall size of the wall and a quote will be provided at the design stage.